Exploited rivers as destination for wastewater
Not having access to seas and oceans gives even higher value to the water ecosystems.
Armenia
is a landlocked country.  We rely on water resources and the ecosystem for food, drinking water, recreation. However, the water ecosystem is a matter of serious concern today. One of those endangered ecosystems is the Akhuryan river,
Gyumri
's "marine" resource. The river ecosystem is affected by untreated wastewater, farming, and livestock breeding, uncontrolled water discharge for fish farming, hydropower plants. How to prevent deteriorated water quality and recover the balance of aquatic ecosystems? In
The Distrikt
we are deploying innovative, clean, and renewable technologies for this purpose.
Biological wastewater treatment and recycling
The water used by the household instead of ending up in the Akhuryan river and causing dangerous pollution will be recycled with the use of a living machine wastewater treatment infrastructure and reused for residential and agricultural purposes.
This innovative method of wastewater treatment is based on biological processes and plants' phytoremediation function to remove pollutants, organic matters, nutrients. The system recycles up to  90 % of the water and pushes it back into buildings and green infrastructure to be used for secondary purposes such as toilets and irrigation.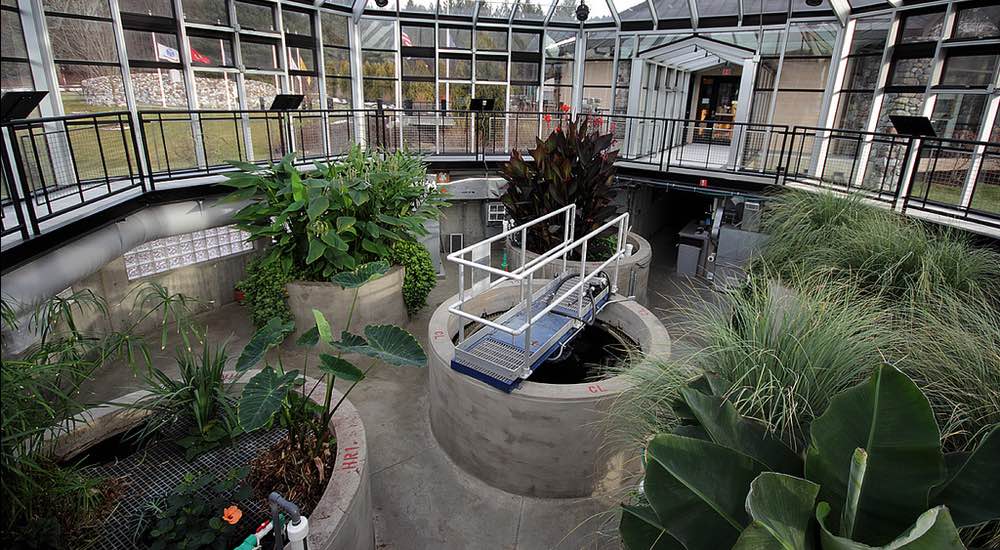 Imagine a system where you can grow lettuce or tomatoes without soil, in water, and use the same freshwater to keep fishes. The waste from fishes is converted to fertilizer for plants and plants filter water to be reused by fishes.
In other words, aquaponics is a technology that combines aquaculture with hydroponics based on recycling water, nutrients, and energy.
Aquaponics and hydroponics plants are flagship products of The Distrikt. The water used for the combined system is continuously recycling thus there is no need to use freshwater resources again and again. The IoT-based management component will facilitate and make the control of the system more efficient.
Clean, safe, and renewable energy will be the main source of heat and electricity of The Distrikt.
Solar farms will provide a major part of the energy during the day. Solar will be supplemented with biogas for night energy. On the other hand, biogas will partially solve waste disposal as the input biomass sources will be collected by the local households, industries, and cattle owners.
Geothermal heating and cooling will be yet another sustainable technology applied. The Earth's constant underground temperature will serve as a sustainable and effective energy source for greenhouses and aquaponics plants of The Distrikt.
The Distrikt contributes to the SDG 14 Life Below Water. The goal is to conserve and sustainably use the world's oceans, seas and marine resources.
Conserve and sustainably use the oceans, seas and marine resources for sustainable development. →
Summer algae blooms have become commonplace in Lake Sevan, Armenia's "blue jewel" nestled in the mountains of the country's Gegharkunik Province. →
Clean water supplies are dwindling around the globe. To grow their crops, farmers resort to using untreated wastewater, which could make them sick – to an even greater extent than previously thought, a study finds. →
As the world's population grows, the demands for increased food production expand, and as the stresses on resources such as land, water and nutrients become ever greater, there is an urgent need to find alternative, sustainable and reliable methods to provide this food. →